INTRODUCING THE NEW PREPPY
02 "ULTRA-FINE" 
Platinum Pen Co., Ltd. (Headquarters: Tokyo, President Toshiya Nakata) has launched the "Ultra-Fine 02 EF" nib into its "PREPPY" fountain pen series.  Since its debut in 2007, the PREPPY series has grown in popularity due to the PREPPY'S outstanding quality and the remarkable low price.  The new Ultra-Fine PREPPY has been redesigned with new graphics, Japanese and English instructions, mixed metal nib and is manufactured in Japan.
We have added the Ultra-Fine nib to our lineup in response to customers' requests for pen nibs suitable for fine writing.  The new 02 Ultra-Fine nib provides exceptional performance and enables one to enjoy the smooth writing & unique feeling of a fountain pen. 
A sensitive process is required in producing the Ultra-Fine nibs.  The final process has been manually completed which is similar to many of our luxury fountain pens.  The new PREPPY 02 Ultra-Fine provides a smoother writing experience for a very reasonable price.  Just as the with the existing PREPPY models, Fine 03 F, and Medium 05 M, the new product also utilizes the "Slip & Seal Mechanism" that prevents ink from drying out in the pen, even after a year without use.  Your PREPPY provides smooth writing anytime. 
The nib, made of a mixed metal, which provides a nib that is  excellent in abrasion resistance. You can enjoy the NEW PREPPY Ultra-Fine for many years to come.
The new PREPPY Ultra-Fine is available in Black PPQ-300 #1, Blue-black PPQ-300 #3 and Red PPQ-300 #11.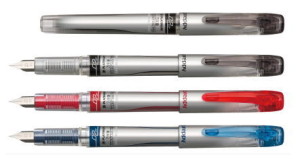 MSRP $4.98 each
PREPPY Fountain Pen <Ultra-fine 02EF>
●Product No.: PPQ-300 #1 black #3 blue black #11 red (totaling in three colors)
●Product specifications:
Barrel/cap/clip (PC) / cover (PMMA) / inner cap (PP) / core (ABS resin) / nib (stainless)
●Size: 138mm full length, 13mm (max. diameter) / average weight: 13g
Specifications
*It applies "Slip & Seal Mechanism" that prevents dye or pigment ink from drying out in the pen, therefore even after two years of not using the pen with the cap on, it provides smooth reliable writing. This mechanism allows those who only use the pen once or twice a year writing with fresh new ink.
◆SLIP & SEAL MECHANISM
It has normally been thought difficult to make an airtight pen with a screw-type cap. If not sealed tightly, the following problems can result: 
| | | |
| --- | --- | --- |
| 1. | Ink drying out due to moisture evaporation. | |
| 2. | Problems with dried ink if the pen is not used for three to six months. | |
| 3. | It can be necessary to clean the pen using our Ink Cleaner Kit or even to repair or replace the nib itself if the damage due to dried ink is too severe. | |
At the request of customers, we at Platinum Pen Company have gone back to the basics to deal with this problem. This is the first fountain pen which has our unique "Slip & Seal" structure in a pen with a screw-type cap. Thanks to this innovation, currently being patented, it is possible to have a screw-type cap with complete airtightness.
| | | |
| --- | --- | --- |
| | | |
| | Changes of the amount of ink by time with a cap. | |