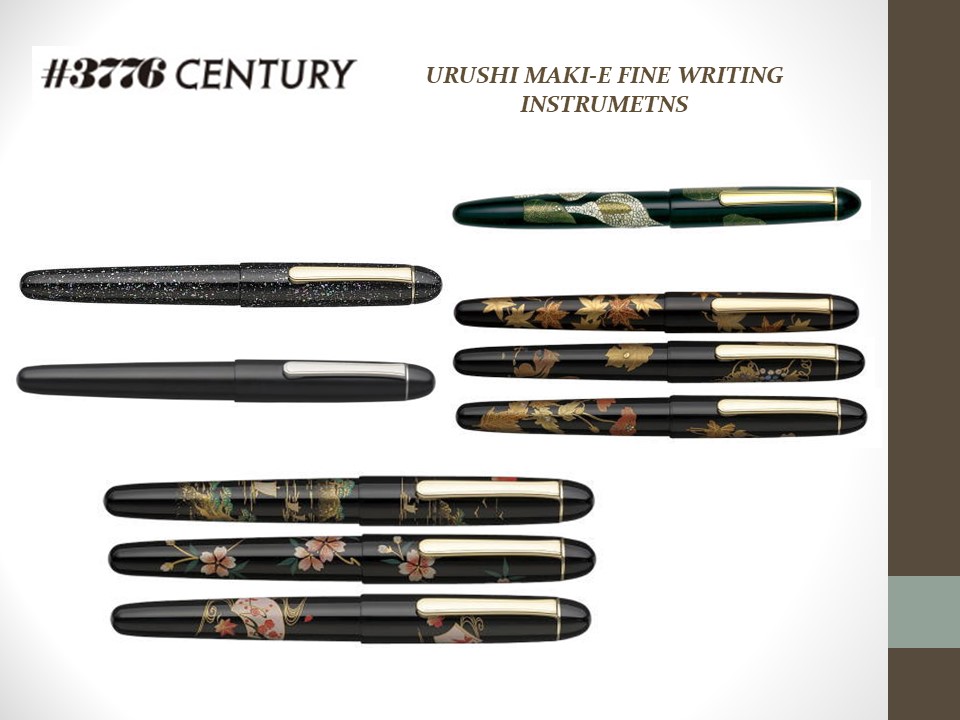 BEAUTIFULLY HANDCRAFTED URUSHI MAKI-E FOUNTAIN PENS
Urushi (Japanese lacquer)
While porcelain is also called "China" worldwide, urushi is also known as "Japan," which is considered a material that represents Japanese craft. The name urushi derives from the word "uruwashii (beautiful)" or "uruoshi (moisten)." It has been used for more than 7,000 years. Since the sap of urushi has strong adhesive properties, it was a very important material to provide protection and extra strength to the tableware such as bowls.
Urushi is the brown sap obtained from the Japanese lacquer tree. The mixture of this sap and the diatomaceous earth provides adhesion to the tableware and furniture by improving the durability of the products. The special method called nunokise, which urushi coating is applied for reinforcement after covering the tableware and other daily products with cloth, is regarded as proof of durability and remains in use today in such areas as Wajima (the current Ishikawa Prefecture) and Negoro (the current Wakayama Prefecture).
Japanese lacquer trees grow mainly in high humidity areas, therefore, they are cultivated not only in China and Japan, but also widely seen in Southeast Asian countries. The trees take eight to nine years after planting until sap can be extracted. For this reason, urushi imported from China is mainly used for undercoating to compensate for the lack of Japanese lacquer trees in Japan, and in recent years, it has become difficult to find an everyday product using higher quality Japanese urushi. (After urushi is refined and strained, it is called ki-urushi)
With the mixture of pigments into ki-urushi, colored urushi such as black or shu (red) are made, thus enabling them to use not just as adhesive, but also as coloring and decoration.。
The surface of urushi has a darker color right after application due to its brown color of urushiol element found in urushi. After being exposed to air and ultraviolet light, it gradually increases the transparency and its original bright color comes back.
At the same time, urushi hardens into a stronger surface, which is believed to be the reason why all artifacts stored in Shosoin, a treasure house in Nara, still maintain their shapes and the brightness of the colors over a long period of time. (Urushi deteriorates by being exposed too much to the ultraviolet light))
Maki-e
Maki-e is a Japanese lacquer art that utilizes urushi lacquer to decorate.
Stemming from the words "maku" meaning "to sprinkle" and "e" meaning "painting," maki-e is a technique that a gold powder is sprinkled over after undercoating, painting and coloring so as to obtain a luxury and stereoscopic effect.
The quality of maki-e largely depends on the work process of shitaji (undercoating) and uwanuri (top coating) that affect the total outcome, and finally the togidashi (polishing of the surface to make it flat) after the top coating determines the quality of the final work.
The maki-e technique is distinguished from other decorating techniques such as hyomon technique in which haku and kirigane (gold foils thicker than haku) are used other than a gold powder, rankaku technique (decoration using fragments of quail and chicken egg shell to express the white color), and raden craft, which is a decoration made by inlaying shells like abalone.
---

MIZUBASOU
"JAPANESE FLOWERING PLANT"
PRODUCT CODE PTB 300000A #30
URUSI MAKI-E OVER RESIN WITH 18 KT GOLD NIBS
AVAILABLE IN FINE, MEDIUM AND BROAD.
---

MOMIJI
"Falling leaves"


PRODUCT CODE  PNB-150000
URUSHI MAKI-E OVER RESIN WITH THE
SLIP AND SEAL CAP MECHANISM AND 18 KT GOLD NIB
NIBS AVAILABLE IN FINE AND MEDIUM
---

THE GALAXY
"STARLIGHT"


A craftsman sprinkled "ao-gai"(blue sea shells) over the whole body of the pen
to illustrate the stars in the night sky. This pattern is also a very famous design
for Japanese traditional Maki-e artwork.
The nib is K18 #3776
PNB-700000C-#56
SLIP AND SEAL MECHANISM
NIBS ARE 18KT GOLD  AND ARE AVAILABLE IN FINE, MEDIUM AND BROAD
---

 YAMABUDOTORISU
SQUIRREL AND GRAPES


A squirrel stores much food in its mouth which translates to storing
money or treasure for the future.
So traditional Japanese people believe this animal portrays "good fortune".
On the other hand, grapes or "Budoh" in Japanese means "Bushi"(Samurai)-doh(way)",
it means the way of the Samurai. So Samurai loved to put this design on their possessions.
The craftsmen is "Koen" and an autograph is put on the barrel as well.
Nib is K18 President Nib.
Cap is push-pull(snap) type.
PRODUCT CODE  PNB-60000A-88
NIBS ARE 18 KT GOLD AND ARE 
 AVAILABLE IN FINE, MEDIUM AND BROAD 
---

POPPY


PRODUCT CODE PNB-50000C-#85
RESIN BODY WITH URUSI MAKI-E AND GOLD TRIM AND 18 KT GOLD NIB AND
ARE AVAILABLE IN FINE, MEDIUM AND BROAD
COME WITH THE SLIP AND SEAL MECHANISM.
---

SAKURA
(CHERRY BLOSSOM) #40
SENMEN
SANSUI

#40

#82

#84
PRODUCT CODE  PNB30000 B -#
EACH OF THESE BEAUTIFUL URUSHI MAKI-E PENS HAVE THE BLACK RESIN BODY WITH URUSHI .
THE GOLD TRIM AND 14 KT GOLD NIBS ARE AVAILABLE IN FINE, MEDIUM AND BROAD.
EACH COMES WITH THE SLIP AND SEAL CAP MECHANISM.