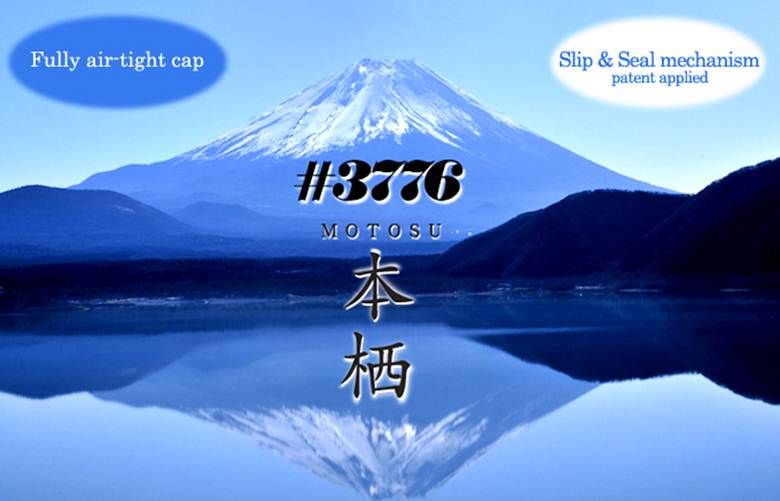 Keep ink fresh with the new Slip & Seal cap #3776 MOTOSU Brand new CENTURY MODEL Special Transparent Fountain Pen(Limited Edition)
We are about to launch the newest model in the popular 3776 series – the CENTURY fountain pen will be appearing this September. But prior to that, we will be introducing the limited edition MOTOSU transparent demonstrator pen.
In homage to the current year, it will be released worldwide on July 1st in an edition of just 2011 pieces, with the serial number on the pen's cap. Lake Motosu is one of five major lakes surrounding Mt. Fuji. And as Lake Motosu is renowned for its clear transparent waters, we at Platinum thought this an appropriate name for this release.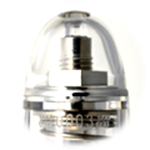 The CENTURY, the newest model in the 3776 series, is designed to create beautiful calligraphy in Japanese letters. Also new in this model is the high performance "slip and seal" structure in the pen's cap, meant to protect against leaks caused by changes in atmospheric pressure.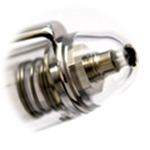 SLIP & SEAL MECHANISM
It has normally been thought difficult to make an airtight pen with a screw-type cap. If not sealed tightly, the following problems can result:
1.Ink drying out due to moisture evaporation.
2.Problems with dried ink if the pen is not used for three to six months.
3.It can be necessary to clean the pen using our Ink Cleaner Kit or even to repair or replace the nib itself if the damage due to dried ink is too severe.
At the request of customers, we at Platinum Pen Company have gone back to the basics to deal with this problem. This is the first fountain pen which has our unique "Slip & Seal" structure in a pen with a screw-type cap. Thanks to this innovation, currently being patented, it is possible to have a screw-type cap with complete air tightness.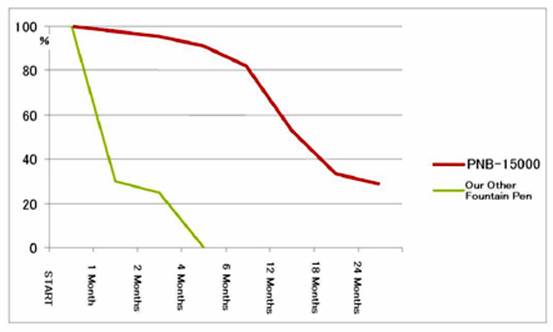 About the Platinum #3776 Fountain Pen
The #3776 Fountain Pen was designed by the late writer Haruo Umeda, who was called "Mr. FOUNTAIN PEN," along with the design team at Platinum Pen Company. Their aim was simple – to make the ideal fountain pen. The #3776 was made available to the public starting in 1978. After just six months, over 150,000 pens had been sold, and it's popularity has been maintained ever since. 3776 is the height in meters of Mt. Fuji, well known as the highest and most beautiful mountain in Japan.
SPECIFICATIONS

| | | | |
| --- | --- | --- | --- |
| | | | |
| | | | |
| ● | Brand | | #3776 MOTOSU |
| | | | |
| ● | Product No. | | PNB-15000 |
| | | | |
| ● | Number of production | | 2,011 (limited) |
| | | | |
| ● | Serial number | | 0001 to 2011 engraved on a cap |
| | | | |
| ● | A color of body | | Lake Crystal |
| | | | |
| ● | Nib | | 14K gold |
| | | | |
| ● | Nib size | | F(Fine) M(Medium) B(Broad) |
| | | | |
| ● | Body | | AS Resin with rhodium plated trims |
| | | | |
| ● | Size | | 139.5mm(Full Length)*15.4(Max diameter) |
| | | | |
| ● | Weight | | 20.5g |
| | | | |
| ● | Ink | | |
| | | | |
| | | | |