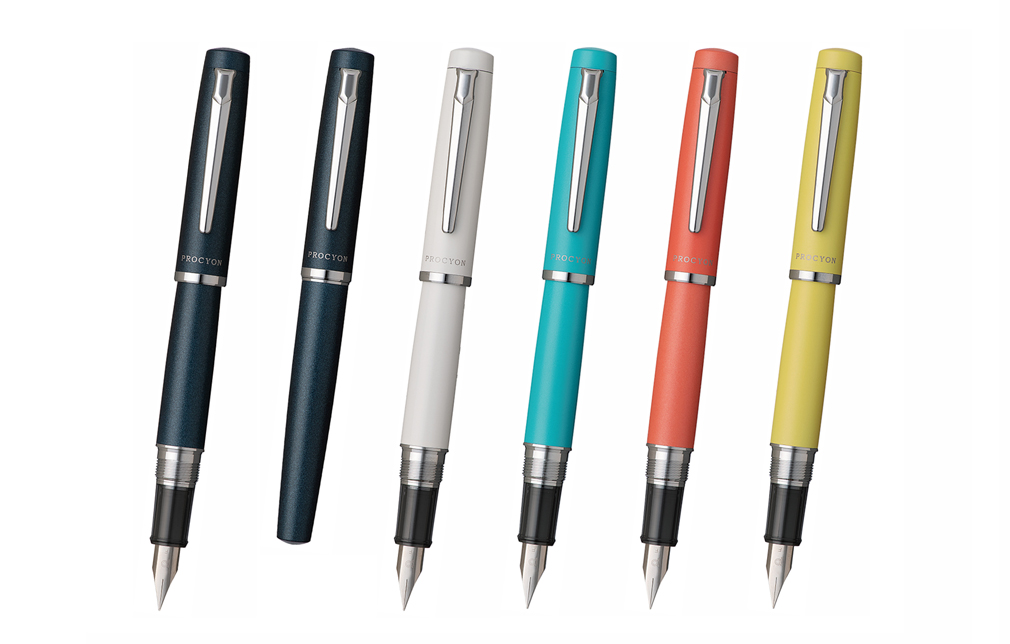 1. Equipped with the Slip & Seal Mechanism that offers a smooth writing experience at any time

The Slip & Seal Mechanism, which is one of the main features of our representative #3776 CENTURY fountain pen models, is also employed for PROCYON. This Platinum Pen' s unique mechanism enabled a pen with a screw-type cap to offer complete airtightness using the inner cap. It provides smooth writing with fresh ink at any time.

2. Equipped with a newly-designed feeder for easier ink absorption

There is no need to dip the pen up to its gripping section into the ink when drawing ink using a converter. The newly- designed feeder of PROCYON fountain pen lets you draw enough ink only by dipping the nib up to its end. In this way, it made it easier to draw ink even when only a small amount of ink is left in the bottle.

The main body and the inner cap tightly cohere to each other as you close the cap. The inner cap moves toward the end when the main body rotates while the spring holds the inner cap fast to maintain a complete airtightness.



3. The pentagon-shaped large nib that offers a superb resiliency and flexibility

In 1962, Platinum Pen launched Japan' s first fountain pen that employed a pentagon-shaped gold nib. The same production know-how for such a pen nib is also applied in the PROCYON fountain pen. Its resiliency realizes a writing feel similar to that of a gold nib in spite of being made with stainless steel.

4. The aluminum body that offers the best weight balance

Although it has a voluminous metallic body, it has achieved the best weight balance by using aluminum for the material. In addition, a close attention has been given to obtain a good balance when the cap is placed on the back of the pen so as to offer a pleasant writing experience.
5. Special coating colors that stimulate the pleasure of owning the pen
Coatings are used to create different textures such as matte/smooth texture or shiny texture like a pottery while maintaining the unique texture of the metallic body. A total of five colors are available to give originality and uniqueness so that the pen can be enjoyed not only as a writing instrument but also as an accent in the breast pocket of your business suit.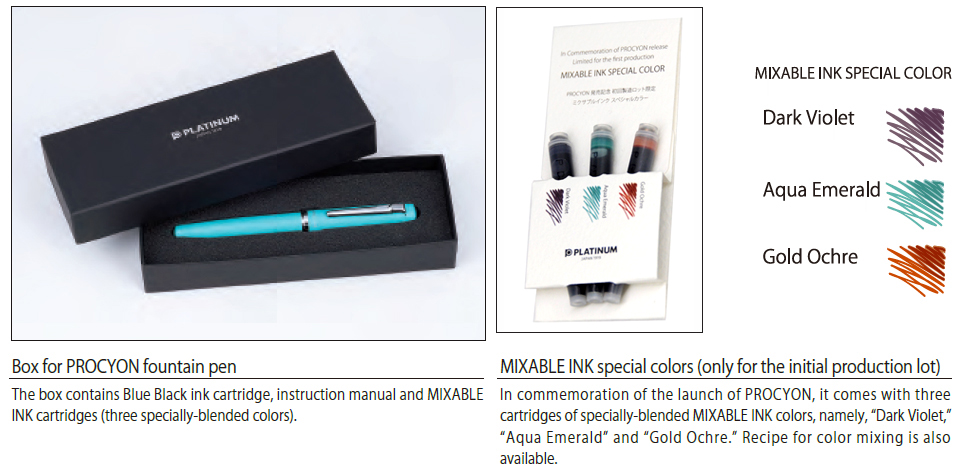 PROCYON Fountain pen
●

Product number:

PNS-5000

●

Barrel color:

#3 Porcelain white, #25 Persimmon orange, #50 Deep sea, #52 Turquoise blue, #68 Citron yellow

●

Specifications:

Barrel, cap, crown: Coating on aluminum
Grip: AS resin
Grip ring, gold ring, body screw: Chrome plating on brass
Clip: Chrome plating on iron

●

Pen nib:

Stainless steel Clip: Chrome plating on (Fine/Medium)

●

Size:

139.7 mm (full length) × 14.4mm (max. diameter)
Average weight 23.3g

●

Refill:

Cartridge ink:SPSQ-400, SPN-100A, SPC-200, SPG-500

●

Accessories:

Exclusive box: Box-PROCYON(4000021)
One Blue Black cartridge ink
Three MIXABLE INK special color cartridges (only for the initial production lot)