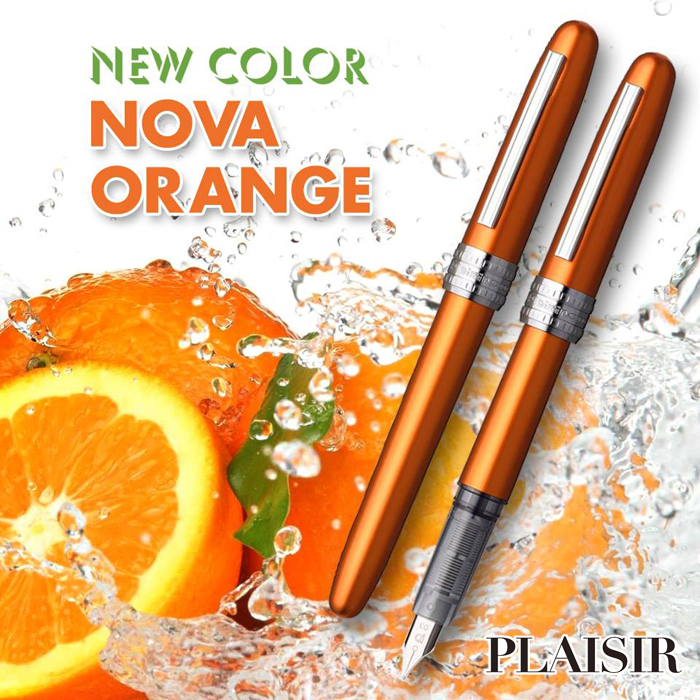 PLATINUM PEN PRESENTS
THE 
NOVA ORANGE PLAISIR
With the recent heightening interest in fountain pens, we have been inspired to produce a special Plaisir pen that will attract more customers. We are adding "Nova Orange" as the 11th color to the current ten colors available. The word "Nova" means "new" in Latin. We have put particular emphasis on the color development of the alumite finish on the barrel. After great effort through trials and errors of dyeing and polishing processes, we have created a unique orange color, which we have labeled it a "nova (new) orange." In addition, for the first time in the Plaisir series, we have chosen a smoke black color for the grip matching the "Nova orange" on the barrel. It is a special version of the series models with a sophisticated look.
●A special version of the series using a smoke black color for the grip matching the "Nova Orange" color on the barrel.
●It applies "Slip & Seal Mechanism" that prevents ink from drying out in the pen, therefore it provides a smooth reliable writing even though not using the pen for a year.
●Alumite finish on durable aluminum body providing an elegant glow.
●The nib made of a mixed metal provides a point excellent in abrasion resistance. By replacing the ink cartridge, users can enjoy the pen for a long time.



Plaisir fountain pen Nova Orange
●Product number:

PGB-1000-#25 

●Body color:

#25 Nova Orange

●Specifications:

Barrel, cap (Alumite finish on aluminum);
grip (PMMA resin);
clip (chrome plating on spring steel);
pen core (ABS resin);
center ring (chrome plating on brass);
nib (stainless steel);
Pen point: fine (0.3), medium (0.5)

●Size:

142.5 mm (full length) × 15 mm (max. diameter)
Weight 15.4g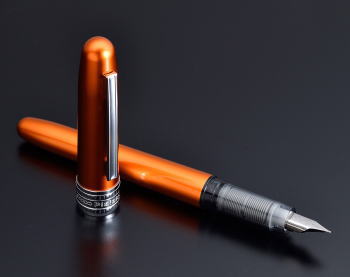 ---